With spring just around the corner, it is time to celebrate the changing of the seasons, and what better way to do that than through delicious and healthy artichokes? Packed with a variety of health benefits and nutritional value, eating artichokes is one of the best ways to hale the warming temperatures during the last throes of winter. Try one of the five recipes below, but make sure you reach for one of Cucina & Amore's fresh and healthy artichoke products: you won't be disappointed, especially after you finish all that spring cleaning.
Artichoke Pesto Roasted Brussel Sprouts
We all know that some of us can pack on a few extra pounds during the winter season by consuming empty calories while staying indoors during the cold weather. To help get that summer body back, try this Pesto-Roasted Brussel Sprouts recipe from Aggie's Kitchen. Deliciously healthy, this culinary treat will dress up brussel sprouts that your whole family will enjoy. Instead of traditional pesto, substitute Cucina & Amore's Artichoke Pesto to give this recipe a tantalizing twist your taste buds will praise!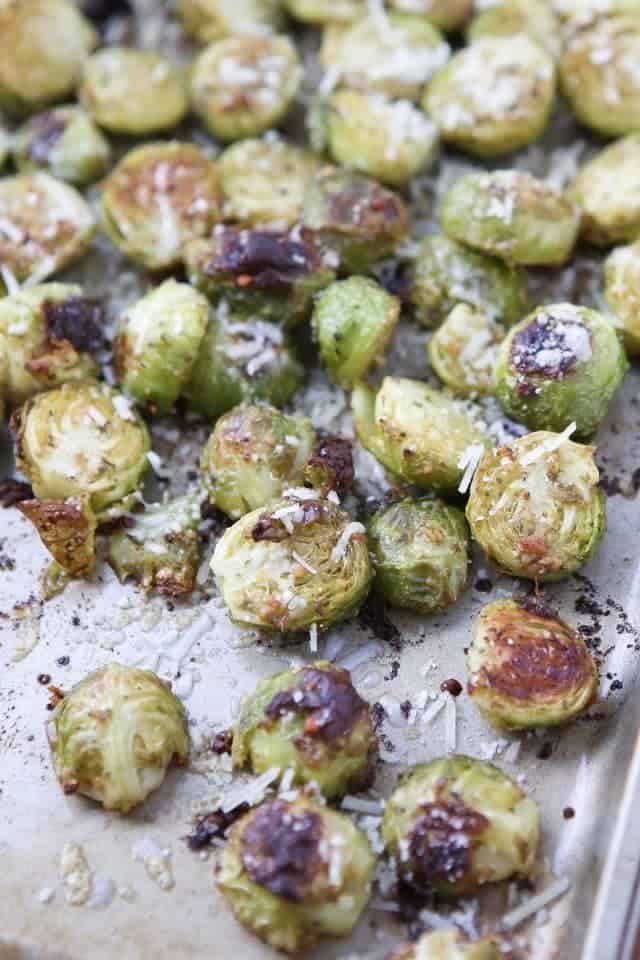 Artichoke and Tomato Bruschetta with Crispy Prosciutto
Bruschetta is an all-around winner in the appetizer department. Who doesn't like toasted bread dolloped with delicious cheese, tomatoes, and crispy prosciutto? Try this bruschetta recipe from Love Happy Hour the next time you have guests over. Topped with delicious cherry tomatoes, beautiful cheeses, crispy prosciutto, and artichoke, these little treats will be gone within moments after they are put on the table. Make sure to use Cucina & Amore's Artichoke Bruschetta to get the most flavor from each bite. You will probably need to make extra so that you get some before your guests eat them all!
Pesto, Artichoke, and Havarti Grilled Cheese
As the saying goes, March comes in like a lion and goes out like a lamb. During the lion days of March, nothing will warm you up quite like a grilled cheese sandwich. This grilled cheese recipe takes the simplicity of grilled cheese and brings it up a notch thanks to the addition of pesto and artichoke hearts. You can make it even better (and fancier, to boot) by adding Cucina & Amore's Artichoke Truffle Sauce and Marinated Artichoke Hearts. You'll forget that winter even exists as the flavors of spring adorn your delicious grilled cheese!
Spinach Artichoke Quinoa Casserole
Another great and healthy recipe featuring artichokes can be found at iFoodReal. This quinoa casserole recipe is hearty, rich with flavor, and sure to fulfill your tastebud's craving for spring. Instead of using packaged, plain quinoa, use Cucina & Amore's Artichoke & Roasted Peppers Quinoa Meal as a replacement to add even more flavor and spend less time having to cook the quinoa. You can have a delicious casserole ready in about 30 minutes. With so much flavor in each bite, you won't even realize how healthy this delicious artichoke quinoa casserole is!
Spinach, Artichoke and Goat Cheese Quiche
Deceptively simple to make since they look so beautiful, quiche is a great brunch staple to add to your recipe arsenal. This recipe from Foodie Crush is no exception: adorned with spinach, artichoke hearts, and goat cheese, this quiche will have your brunch guests raving. Make sure you use Cucina & Amore's Artichoke Hearts when preparing this meal. You can either use the regular, quartered hearts, or if you are feeling fancy, try using Cucina & Amore's marinated artichoke hearts. This recipe is perfect to use for Easter brunch, or even on a lazy (and tasty!) weekend.