Gnocchi with Butternut Squash and Kale
Cucina & Amore Potato Gnocchi is as delicious and fresh as they come. Made with real potatoes, this gnocchi pairs perfectly with healthy butternut squash and kale. If you need a superfood fix, this recipe by Barber Foods is perfect for your next meal. Butternut squash is browned with garlic, sage, and Cucina & Amore Fruttato Extra Virgin Olive Oil to bring out the savory sweetness of the squash. Feel free to substitute the chicken broth with vegetable broth and enjoy a truly satisfying vegetarian dish.
Watch on YouTube >>
Artichoke Stuffing
With Thanksgiving just around the corner, there is no better time to try out this
Artichoke Stuffing
from
That''s Some Good Cooking
. Featured in HuffPost Taste, this delicious recipe calls for toasted sourdough bread, heaps of parmesan cheese, loads of mushrooms, and garlic. Best of all, it also calls for a jar of artichoke hearts to give the stuffing a briny bite. Make sure that you use Cucina & Amore Whole Artichoke Hearts for this recipe so you can ensure you are using the tastiest artichokes on the market. You can also substitute the artichokes for
Cucina & Amore Grilled & Marinated Artichoke hearts
to bring a more developed flavor to this dish. Your family will be asking for the recipe this Thanksgiving!
Hot Artichoke Dip 
Next time you have guests, use the following recipe to put a spin on the traditional spinach & artichoke dip. This dip is lighter and more flavorful than the classic spinach dip since it calls for delicious cream cheese, Parmigiano-Reggiano and Gruyere cheeses, instead of mayonnaise. This dip also packs a little heat since it calls for a bit of hot sauce. Best of all, it is made with Cucina & Amore so you know you will have the freshest-tasting ingredients. Make sure you make extra because this dip will be gone in seconds!
2 tablespoons Cucina & Amore Fruttato Extra Virgin Olive Oil
1/2 cup green onions, white and light green parts only, thinly sliced
2 cloves garlic, minced
salt (to taste)
1 jar Cucina & Amore artichoke hearts, drained and chopped
1 (10 ounce) package fresh chopped spinach
2 tablespoons Cucina & Amore Artichoke Truffle Sauce
8 ounces cream cheese
1/2 cup shredded Gruyere cheese
1/2 cup finely grated Parmigiano-Reggiano cheese
1/4 teaspoon hot sauce
1 pinch ground nutmeg
salt and freshly ground black pepper to taste
1/4 cup shredded mozzarella cheese
Breadsticks Wrapped in Prosciutto with Pesto Dip
Another classic appetizer, breadsticks wrapped in prosciutto, are a great way to class up your charcuterie plate. Take any frozen breadstick dough and top with grated parmesan cheese to add some salt to your delicious bread. Add another layer of flavor with salty-sweet prosciutto wrapped around the breadstick to make it heartier than before. Spend more time with your family rather than in the kitchen, use Cucina & Amore Pesto alla Genovese (Basil Pesto) sauce to add another level of savoriness to your dish. Lucky for you, Cucina & Amore has three pesto sauces to choose from: Basil, Artichoke, and Sun-Dried Tomato. So if you can't choose one, try all three!
Red Pepper Tapenade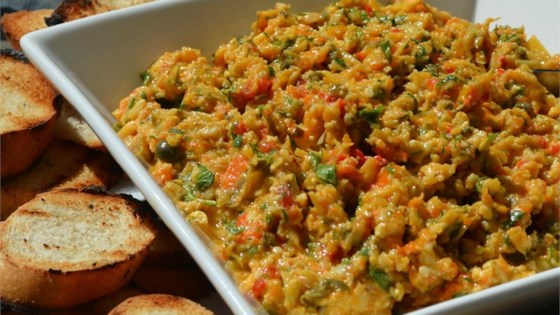 All recipes has fabulous treats for you to peruse. Try this
Red Pepper Tapenade
whenever you have guests—you can use it as a dip or condiment for delicious sandwiches. Instead of using whole olives, pick up Cucina & Amore
Black Olive Bruschetta
—this will also save you a step with the food processor. Substitute capers with Cucina & Amore Tricolor Jalapeños or
Whole Piquillo Peppers
. You can also bring more flavor to the tapenade by using less artichokes and adding Cucina & Amore Artichoke Truffle Sauce. To round out the flavor and bring an unexpected twist, try adding Cucina & Amore's Sun-Dried Tomato Bruschetta. For those that are short on time to make tapenade from scratch, try using Cucina & Amore Piquillo & Artichoke Bruschetta!